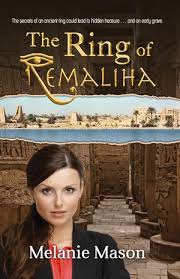 Go to my Facebook page and enter to win a new copy of The Ring of Remaliha…deadline is February 6th!
When the book you're reading begins with the heroine receiving an ancient Egyptian ring in the mail from her recently deceased boyfriend with his dying request for her to solve its mystery, you know you're in for an on-the-edge-of-your-seat experience, and indeed it was! Melanie Mason takes us on an Indian Jones-like experience following April Tanner—an independently strong woman and famed Egyptologist—as she unravels the mystery of Remaliha's treasure. Mason parallels the twists and turns of this treasure hunt with April's personal inner journey of healing and finding the courage to trust again. Mason does a wonderful job of weaving Egyptian history with a fast-paced adventure—my favorite combination of learning through storytelling. Will April solve the mystery? Will she find the treasure? And at what cost? These are all questions that keep the pages turning and this reader happy. Thank you, Melanie, for a great adventure!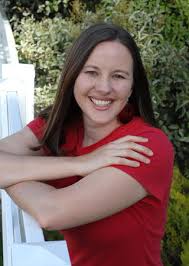 Author Interview:
1. What was your inspiration for The Ring of Remaliha?
When I was in middle school I had a 45-minute bus ride home from school and sometimes the younger kids would ask me to tell a story. I had a pair of those long dangly earrings that we wore back in the 80's and I pulled one off and made up a story about my older sister April (I didn't have an older sister named April) and her amazing discoveries with Egyptian archeology. Well, the story has come a long way since then. My earring is now a ring and much of her experiences have changed, but April has remained much the same.
2. How has your experience as a flight attendant influenced your writing? Has it taken you to Egypt?
I suspect my experience as a flight attendant has given me fodder for characters, but nothing I could really name. Unfortunately, I haven't had the chance to travel to Egypt. I would love to and perhaps at a future day I will be able to. I do admit that when I have the chance to look down at the earth from 30,000 feet I can imagine all sorts of things and places for my characters to experience.
3. The Ring of Remaliha was a 2015 Whitney Award Nominee—tell us more about this, and congratulations!
It is always an honor to be a Whitney Award Nominee. I am so grateful to my fans who nominated me. It is an amazing feeling to know that people enjoy my stories enough for such an award. As far as I know I haven't become a finalist, but I hope to someday.
4. What is the easiest and hardest thing about writing for you?
It's actually pretty easy for me to create a story. All it takes is the right prompt or environment or even dream and I surge forward with ideas, thoughts, dialogue, and places. Picturing the characters and the places they live and their experiences is fun – like a movie in my head. I just write the movie.
The hardest part is that I can never force a story. I write like I'm reading the book for the first time and sometimes I feel like the pages are blank. I want to know what will happen to my characters and though I have an idea, my inspiration comes when it comes. Another hard thing is sometimes I can't write fast enough, nor do I have enough time to get everything out as fast as I want.
5. Any advice for up and coming writers?
Read a lot and write a lot. And don't restrict yourself to a specific genre. I have stories all across the board from Fantasy to Romance to Dystopian to Mystery (though I don't do horror). When you start out, just write. That's the biggest thing we do. Get the story out, the editing will come later.
6. We look forward to your next book—can you give us any hints?
I have a few stories in the sidelines that I'm considering, a mystery and a fantasy romance, but nothing set in stone yet. I'm also working on a sequel to The Ring of Remaliha as well as one for The Line That Divides, but again I can't force the story. When they come, they will come, but I will be sure to keep everyone posted. You can always check for updates on my website: www.melaniemasonauthor.com or my Facebook page.
Thanks, Melanie, for visiting my blog and answering these questions….we all look forward to your next adventure. And I really wish I could have ridden the school bus with you!
You can find The Ring of Remaliha at Amazon and Deseret Book. And don't forget to visit my Facebook page and enter a chance to win a new copy – deadline is February 6th!